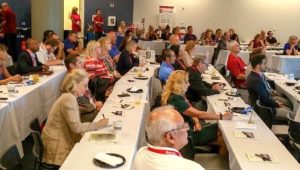 On Sept 14, 2018, the Kasten Long Commercial Group (KLCG) in partnership with American Title Service Agency hosted a unique educational event at SkySong.   Some of the best speakers in their field defined the economic engines and planned activities in and around South Scottsdale that will produce many JOBS projected to result in a very strong demand for housing.  This demand is anticipated to significantly increase residential and commercial property values.
Scottsdale Mayor W. J. (Jim) Lane noted that Southern Scottsdale is already a world-wide destination for entertainment, tourism, restaurants, shopping, business, and exceptional housing.  Brian Krob with Aline Architecture Concepts and a member of the recently formed South Scottsdale Alliance, noted that the Alliance is supporting the Mayor's number 1 priority – the redevelopment of the McDowell Road Corridor.  In addition to what the City of Scottsdale has planned, SRPMIC and SkySong are two strong economic engines that will further enhance the economy.  Arvle Knight, a senior broker with KLCG, provided an overview of the recently completed and planned apartment and condo market already fueled by the thriving economy.
SRPMIC – Talking Stick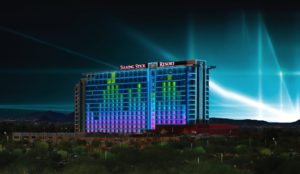 Southern Scottsdale has a great neighbor to the east.  Aaron Studebaker with the Salt River Pima Maricopa Indian Community (SRPMIC) summarized the many commercial and entertainment projects completed since the 1.1 million sf Pavilions on Indian Bend Road in 1991.  In addition to many new impressive projects under construction, such as Great Wolf Lodge, Medieval Times, The Block and the Edge PLUS, there are more than ten significant new projects in the works, but not yet announced.  It's obvious that from Loop 202 north to Shea Blvd. and a mile east of Pima Road, this entire strip will be an amazing tourist and business attraction.  Since SRPMIC does not allow housing and there will be a huge number of JOBS created, demand for nearby housing (houses, condos, apartments) will dramatically increase.
ASU's Innovation Zones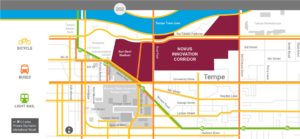 In the southern portion of South Scottsdale and within two miles of Scottsdale's south border, there are two areas within ASU's Innovation Zones with huge development plans.  Todd Hardy, the Managing Director of ASU's Innovation Zones, described the planned development of the 330-acre Novus Innovation Corridor located just east of the ASU Tempe campus and the 42-acre SkySong facility at the corner of McDowell and Scottsdale Roads.  The planned total build-out for the Corridor is 8 million sf office, plus retail, dining, lodging creating more than 34,000 JOBS. SkySong is only partially built-out and already has more than 2,000 employees.
City of Scottsdale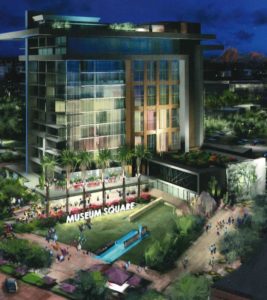 Mark Paratore, City of Scottsdale's Economic Dev. Project Manager, provided insight on many proposed apartments, condos, hotels, mixed use facilities and a 200,000+ sf office complex – all located from Chaparral Road to just below McDowell Road. A very significant mixed-use project will be in Museum Square (Marshall Way and 2nd St) that has been approved for 190 ft height.  With more projects of this height, the skyline of southern Scottsdale is about to change and land able to be zoned with this height will dramatically increase in value.
SRP – Water Resource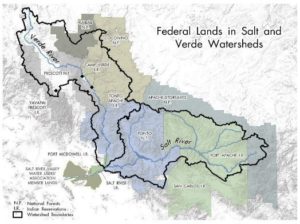 While the activities in southern Scottsdale are about to drive property values higher, the most important presentation may have been the long-term water resource for the entire Valley.  Colette Moore, Senior Water Planning Analyst for SRP, acknowledged that many folks believe our growth may not be sustainable, but she assured everyone that because SRP has been providing and planning our water supply for more than 100 years, we have a reliable, abundant and well-managed water supply for the future.  In addition, she noted that between 1957 and 2016, the population for metro Phoenix increased 504% while the annul water use dropped 2%.  Another dramatic point made was that water from the Salt and Verde Rivers that run directly into the Valley come from a huge drainage basin that include Prescott, Flagstaff, Payson, Show Low, Alpine and Globe – all areas receiving much more precipitation than the Valley.  Companies considering expanding or locating to our area need to know we have plenty of water for the future.
Charitable HomeTown Hero Project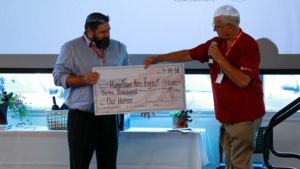 The event was also a fund raiser for HomeTown Hero Project, a military veterans support group.  The hope is that other event coordinators will take notice and support similar groups.  The picture shows Jim Kasten presenting a check to Charles Evans representing the Project (www.HTHProject.com).