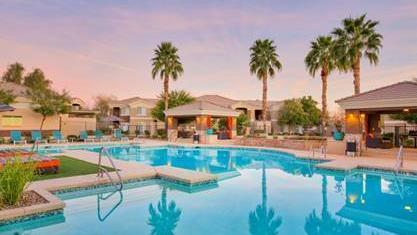 Institutional Property Advisors sold a multifamily property in Phoenix for $41 million.
Adobe Ridge, a 224-unit complex built in 2005 at 4545 W. Beardsley Road in Phoenix, was sold for $183,036 per unit, according to information released by Calabasas, California-based IPA.
Aukum Group, a Larkspur, California-based private real estate investment company focused on apartments in the western U.S., bought the complex, according to Steve Gebing, senior managing director of IPA.
"The Northwest Valley's strong economic fundamentals are creating opportunities for multifamily property revenue enhancement," Gebing said. "Adobe Ridge is a prime candidate for an interior renovation program that will complement the property's recent exterior enhancements."
The combination of local and physical attributes, such as its exclusive Northwest Valley setting with direct access to Glendale's Arrowhead Ranch area, and it being a prime candidate for apartment interior renovations makes Adobe Ridge a great catch, Gebing told the Phoenix Business Journal.
The multifamily market across Phoenix has been going strong of late with several complexes switching hands. New apartment construction also has been booming in recent years as the economy has come back strong and more people are moving to the region.
IPA is a division of Marcus & Millichap (NYSE: MMI), a real estate investment service.