Originally published by Phoenix Business Journal May 11, 2018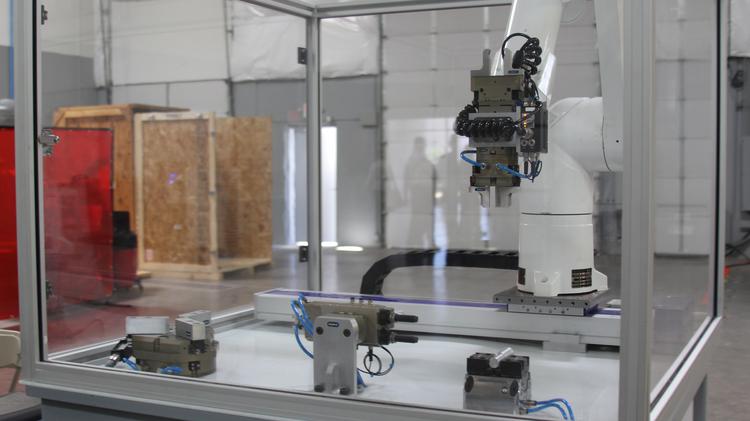 A Canadian manufacturing company that works with Honeywell International Inc. (NYSE: HON), Axon Enterprise Inc. (Nasdaq: AAXN) and others has invested more than $1 million to open a Mesa manufacturing facility.
Eclipse Automation is a customer-focused leading supplier of sustainable custom automated manufacturing equipment for a diverse range of industries. The Canadian company opened a manufacturing facility in Mesa in May 2018.  Eclipse Automation Inc. plans to invest another $1 million and add another 30 employees within the next 12 to 16 months, said Eclipse CEO and founder Steve Mai.
The 26,000-square-foot facility opened about a month ago with 20 employees at 2340 W. Broadway Road.
"We were able to find a core skilled labor pool (in the area)," Mai said by phone Friday. "The investment that the local universities and colleges are putting into technology in the area is definitely a benefit to us. Our growth is dependent on those programs."
Eclipse is a Cambridge, Ontario-based company that offers custom machine and design build and custom robotics and engineering for companies working in health science, aerospace, electronics and energy.
Mai said he can't discuss specific products or equipment due to non-disclosure agreements.
"Our core is engineering," Mai said. "We've developed software to automate the process of what we do, and we've been developing that for 18 years."
Mai said the company chose its third location in Mesa to take advantage of the local, skilled engineering talent, growth and business support in the area.
Eclipse, an 18-year-old company, first opened a Charlotte, North Carolina, office more than four years ago and has since opened an office in Fremont, California. Mesa was a target to help the company's West Coast clients, Mai said.
"After looking at a few locations, we really were intrigued with what was happening in this area," he said. "It's also a location where a lot of people have been inspired to re-locate."
The company is hiring for mechanical and electrical engineers, machinists, machine builders and electricians. Mai didn't want to give job specifics, but said pay is competitive to the market and skilled labor is at the higher end depending on skill set and experience.
"We're growing to support our customer base," Mai said. "We're pretty excited to be here (in Mesa). This rounds out our offering for North America. We've already seen signs of growth and have been well received from customers and employees. We're pleased with how it's been going so far."
The city of Mesa partnered with Eclipse Automation, the Greater Phoenix Economic Council and the Arizona Commerce Authority on the project. Mesa Mayor John Giles said the company fits well with Mesa's innovation, tech-focused portfolio.
"Automation is the future of technology and the future is now," Giles said in a statement.